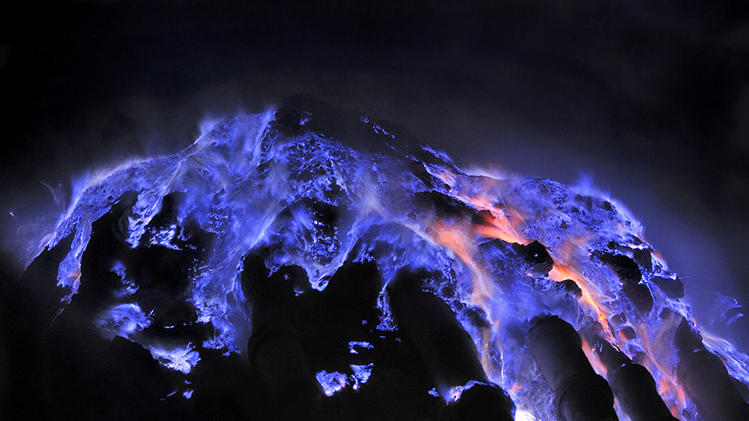 There is an old saying that seems to come up in life quite often, "The Truth is Stranger Than Fiction".  This saying is true about a great many things, but recently I stumbled across an amazing photograph of blue flames from a volcano in Indonesia.  The photographer has an amazing talent for capturing the beauty of nature.  His name is Olivier Grunewald and his talent is obvious the moment you see his work.  I hope he doesn't mind that we are fans of his photos, and as such, we provide a link to his site for you to see his amazing photos, and encourage you to use them in your business if you have need of such.  http://www.oliviergrunewald.com/  
Anyways, it occurred to me that this amazing blue fire was synonymous with something many of us spend a lifetime looking for.  The white unicorn if you will, that special something that is a part of the search for the meaning of life.  Many different successful people have said that "Success is a Journey, Not a Destination" so this is not a revolutionary thought by any means.  What might be a little bit different is utilizing the fantastic beauty of this blue fire to illustrate how we must find a way to truly appreciate the beauty of life that surrounds us each and every day.  If as was famously said by Homer, "the journey is the thing" then we must always find ways to continue to get the most we can out of the actual journey.  In my own experience this has always been easier to accomplish when viewing, witnessing, reading about, and of course experiencing the extraordinary, spectacular, and truly wondrous.  As wonderful as it can be to sit around a campfire and reminisce about life, this brilliantly incredible blue fire touches on the fantastic.  It is a not so subtle reminder to us that there are so many things in this life to see and do.  So many adventures and experiences that are out there for us to find.
Most us may never get the chance to travel to Indonesia, let alone take an excursion to this remote volcano to witness personally these blue flames, so we can be grateful for talented artists like Olivier Grunewald for delivering photos that allow us a glimpse of what it would be like.  If we take a moment to appreciate the beauty of things like blue lava flame, it can inspire us to think more about life, which in turn may move us to do more with our lives.  If we find a way to think more, and do more we will surely end up having more….which means in the end we can GIVE MORE.
Here's to all of us remembering there are thousands if not millions of wonders in the world like this blue lava fire, and why shouldn't we do our level best to see and enjoy as many of them in our lifetime as possible?  Perhaps by being open to inspiration from a photo like this, we will find the same kind of joy and wonder from our own backyards on a daily basis.  My daughter seems to find a way to truly enjoy the simple things in life like rolling down our hill of grass, picking dandelions, and smelling the flowers around our house.  If the journey really is the thing, than all of us would do well to find the blue lava fire within our own daily life, enjoy it, and share it with our loved ones every chance we can.  Thank you Olivier Grunewald for a truly beautiful image of the world we live in!
Related articles